ZONEPACK 800g Stainless Steel Household Electric Flour Mill Powder Grinder Machine Herb Corn Spice Grinder Beverage Machinery
Pre-sale Support
Quality Guarantee
About Shipping
Introduction and Applications
High-speed Powder Machine is a necessary tool to ram the medicine, it is 50 times stronger than the traditional motor in working efficiency. This machine adopts ultra high-speed motor, can quickly smash all kinds of dehydrated food, rice, corn, sesame, soybean, fish feed, pepper, medicine (such as ganoderma, licorice, Tianqi, pearl etc), usually smash the medicine into the powder for no more than a minute. This machine is suitable for dispensary, medicine processing factory and powder processing.
Red Bean,Green Bean,Sesame,Black Bean,Peanut,Almond And So On.It Can't Lost Nutritional And Delicious.
Note
Before Grind The Grain,You Need To Dry Ingredients(Or Fried),Grinding The More Delicate,Oily Ingredients,Suggest To Dry,Even Stir-fry And Then Grind,So As To Avoid Into A Paste.
Specification
| | |
| --- | --- |
| Name | Mill Powder Machine |
| Model | ZS-700Y |
| Voltage | AC 220V/50Hz |
| Motor Power | 850W |
| Speed | 31000r / min |
| Fineness | 60-300 (mesh) |
| Material | Stainless Steel |
| Working time | 5 minutes |
| Interval time | 10 minutes |
| Dimension | 19cm*17.8cm*36cm |
| Weight | 5kg |
How to use
1. The smashing materials is not exceed half of the smashing groove.
2. The smashing materials should keep dry, no moisture and grease.
3.When it starts up, please shut off the power supply immediately if the blade is stuck by the smashing materials and the motor does not run (buzzing noise occurs) to avoid burning the motor, and then remove the blocks, check the fuse and restart the machine.
4. Usually smashes the hard medicines into powder for a minute. Do not continuously operate the machine for a long time; you can use this machine in interval.
5. Do not clean the machine with water; you can clean the machine by cloth or brush.
6. During using, do not open the upper cover or put your hands.
7. You must shut off the power supply if the motor does not run.
Package Included
1 x Mill Powder Machine
1 Set of Accessories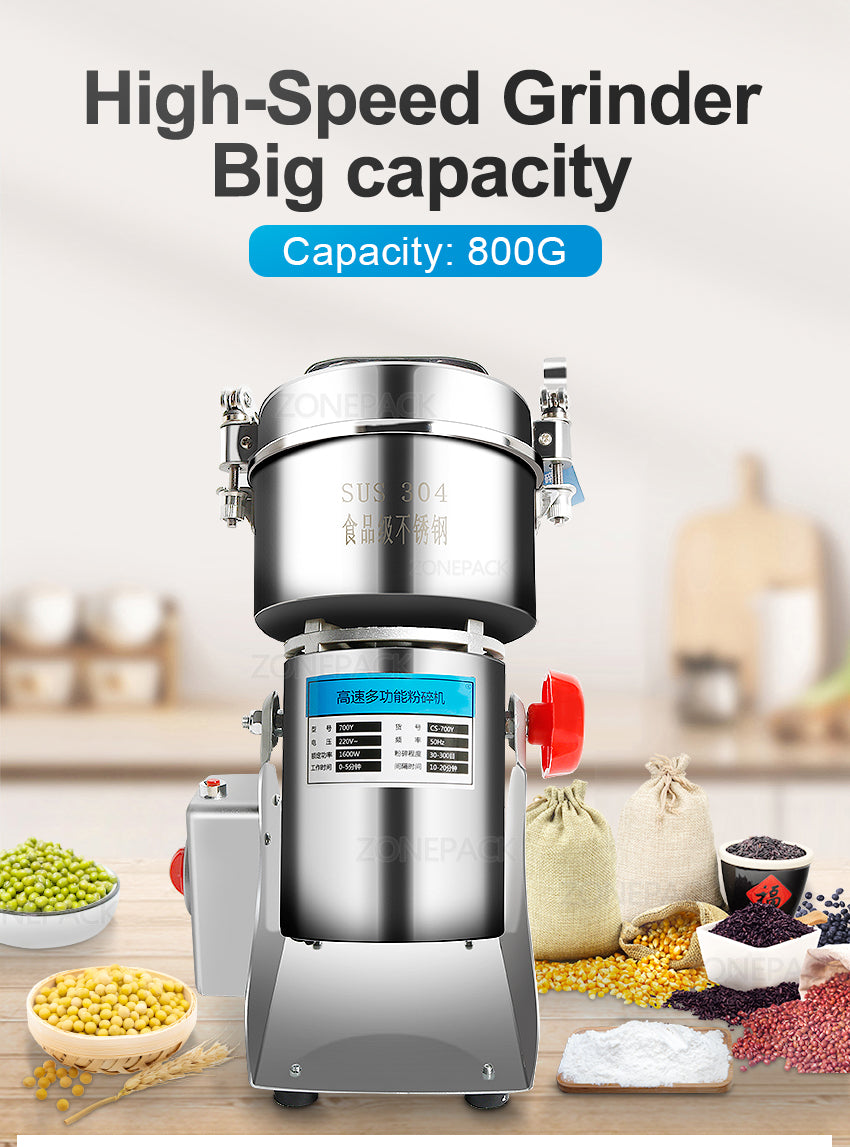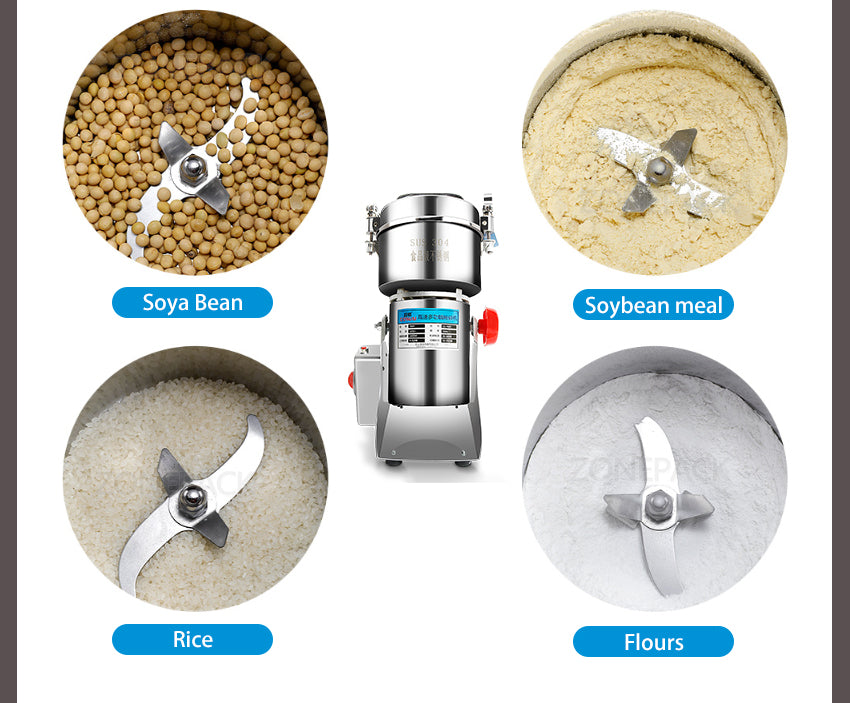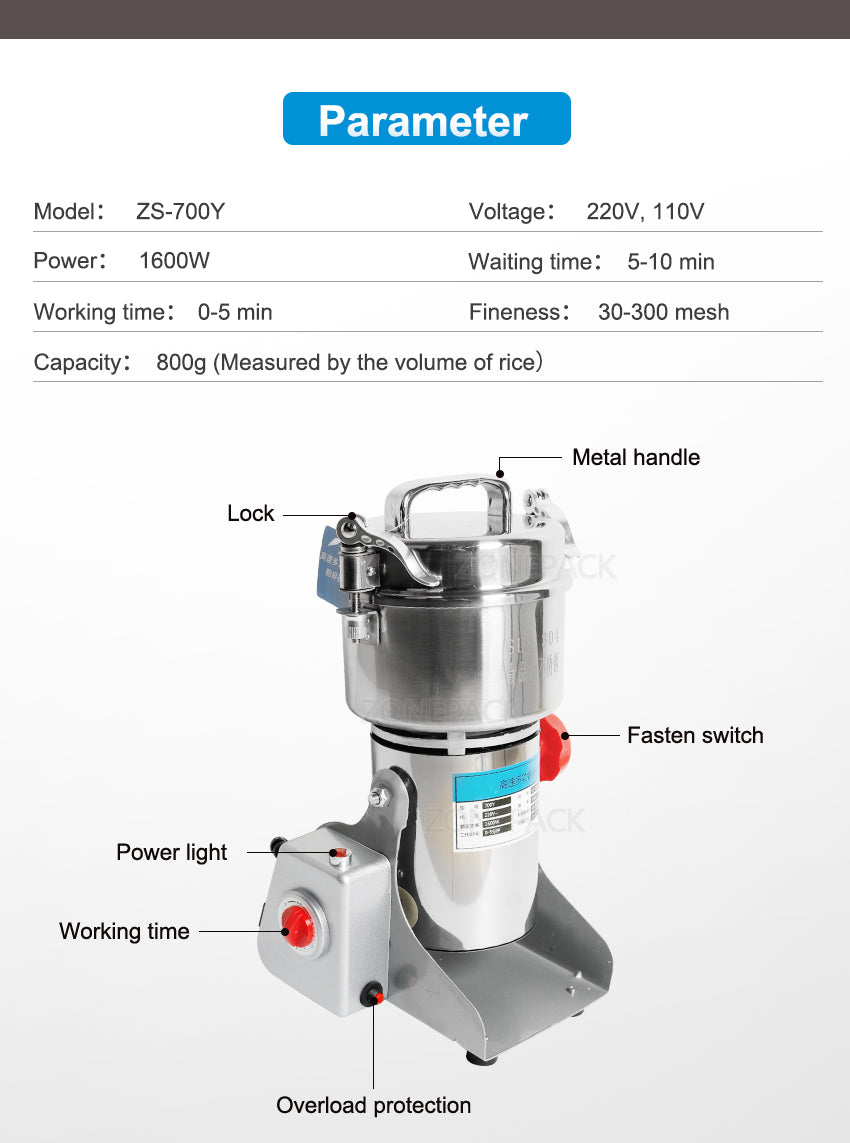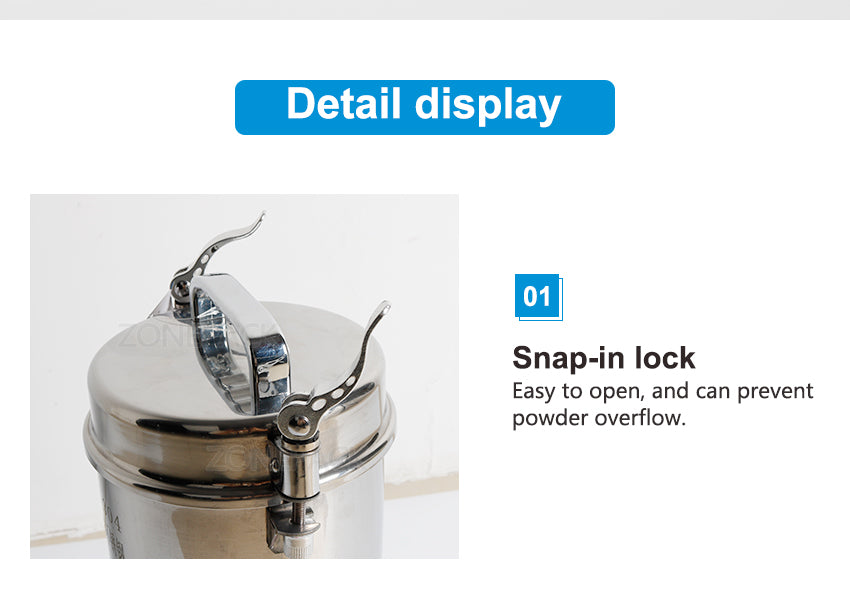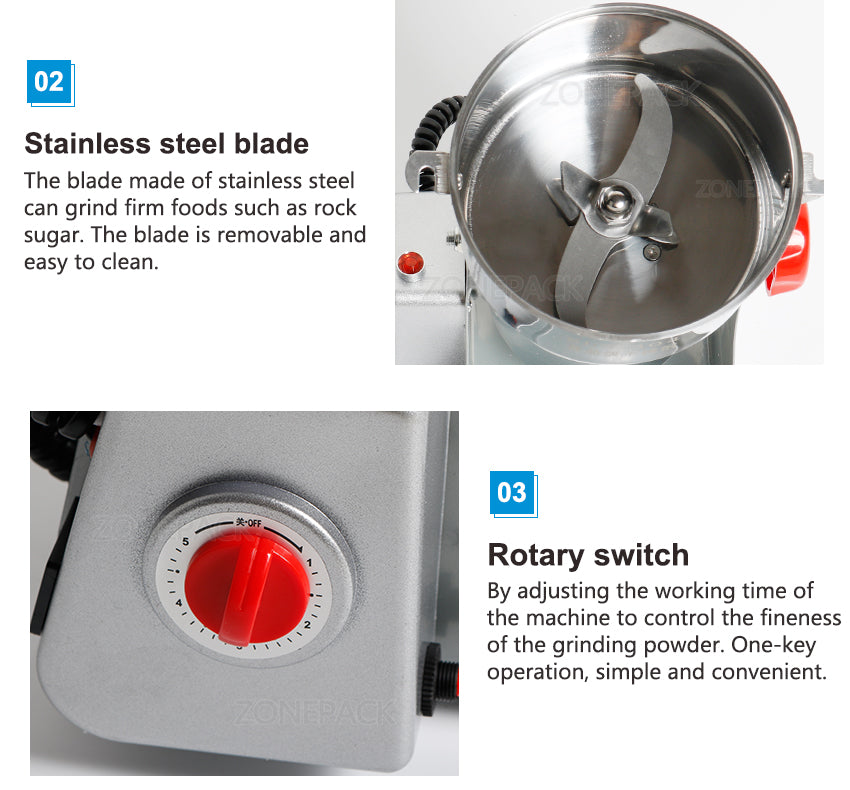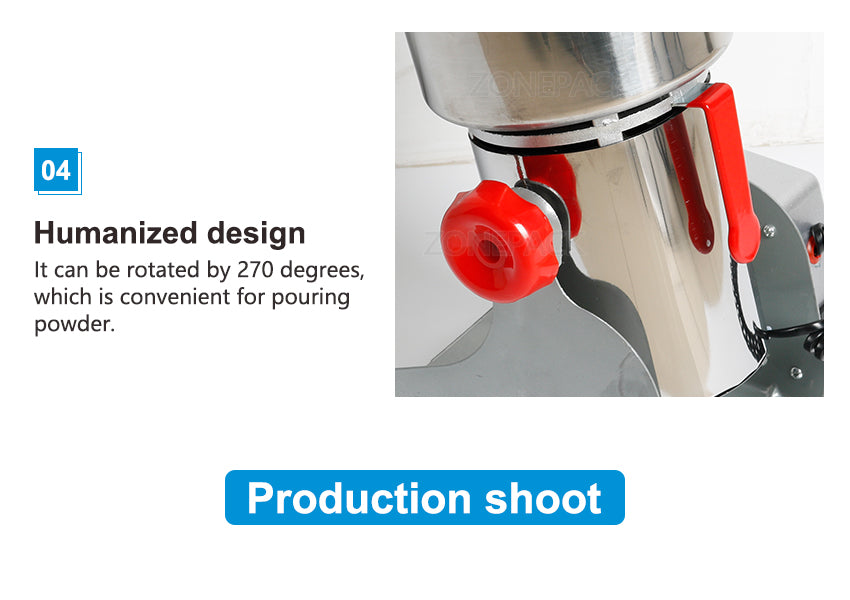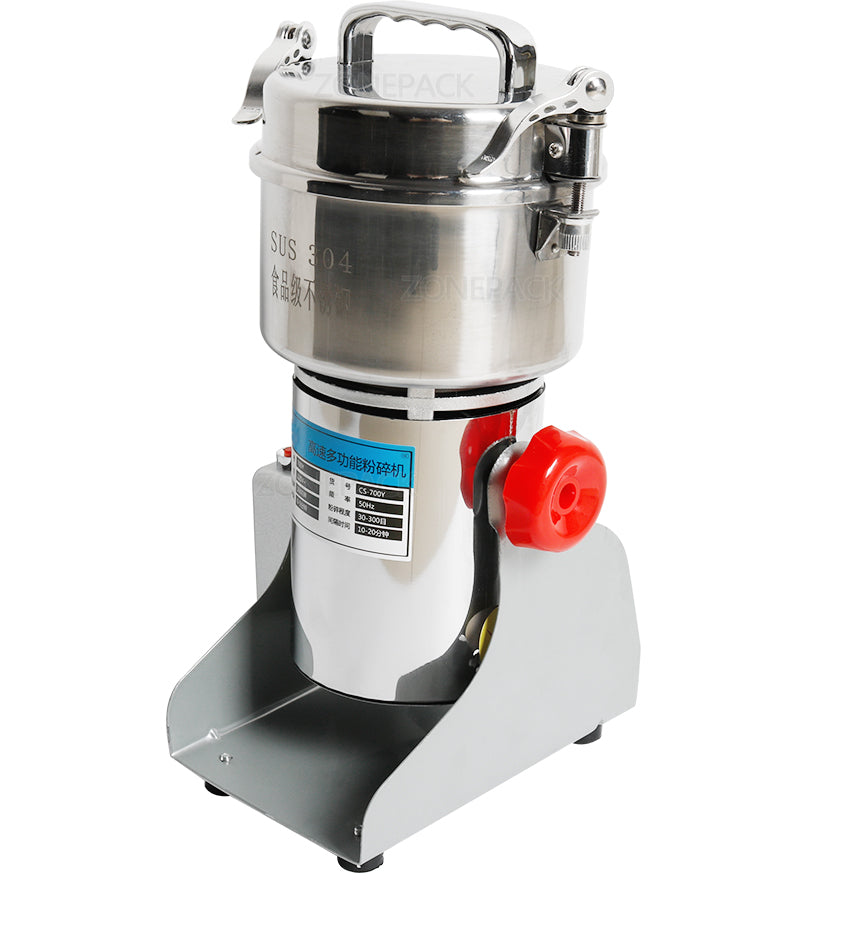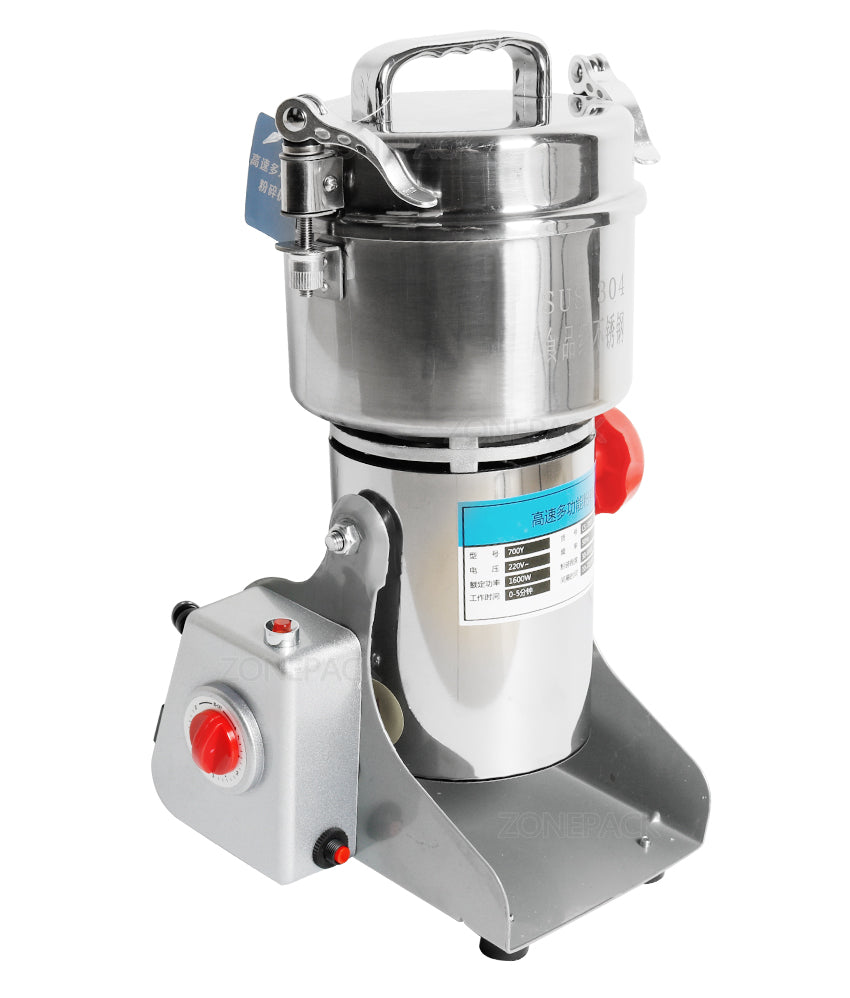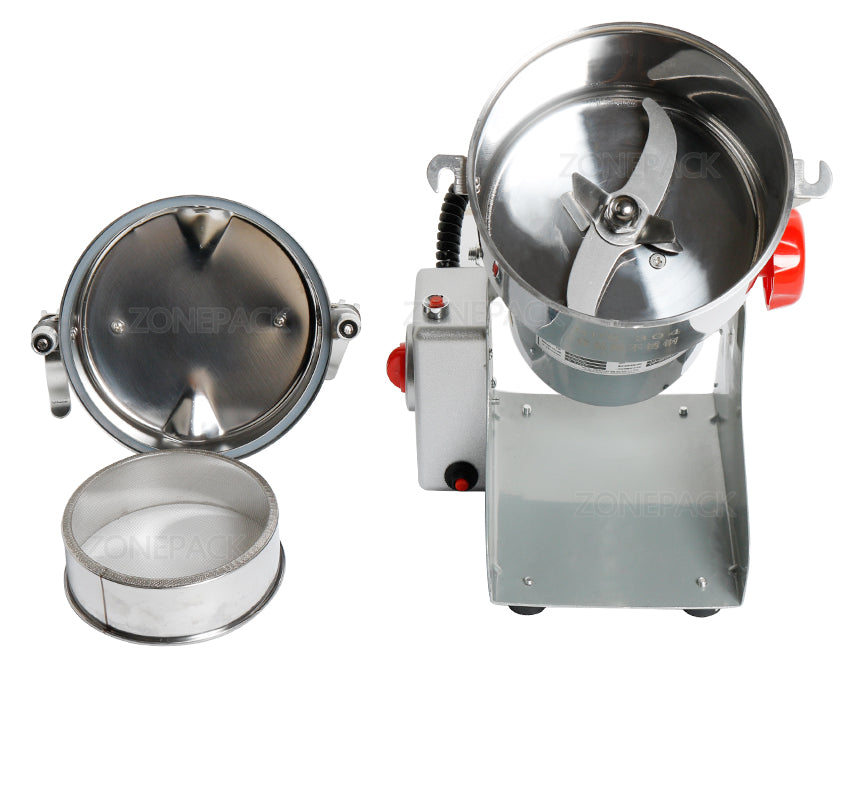 Catalogue

 Automatic Production Line

Filling Machine : 

Capping Machine

Labeling Machine
Term of service

Terms of service

Terms and Conditions
Welcome to our website. If you continue to browse and use this website, you are agreeing to comply with and be bound by the following terms and conditions of use, which together with our privacy policy govern ZONESUN's relationship with you in relation to this website. If you disagree with any part of these terms and conditions, please do not use our website.

The term 'ZONESUN' or 'us' or 'we' refers to the owner of the website whose registered office is Guangdong,China. The term 'you' refers to the user or viewer of our website.

The use of this website is subject to the following terms of use:

The content of the pages of this website is for your general information and use only. It is subject to change without notice.
This website uses cookies to monitor browsing preferences. If you do allow cookies to be used, the personal information may be stored by us for use by third parties.
Neither we nor any third parties provide any warranty or guarantee as to the accuracy, timeliness, performance, completeness or suitability of the information and materials found or offered on this website for any particular purpose. You acknowledge that such information and materials may contain inaccuracies or errors and we expressly exclude liability for any such inaccuracies or errors to the fullest extent permitted by law.
Your use of any information or materials on this website is entirely at your own risk, for which we shall not be liable. It shall be your own responsibility to ensure that any products, services or information available through this website meet your specific requirements.
This website contains material which is owned by or licensed to us. This material includes, but is not limited to, the design, layout, look, appearance and graphics. Reproduction is prohibited other than in accordance with the copyright notice, which forms part of these terms and conditions.
All trade marks reproduced in this website which are not the property of, or licensed to, the operator are acknowledged on the website.
Unauthorised use of this website may give rise to a claim for damages and/or be a criminal offence.
From time to time this website may also include links to other websites. These links are provided for your convenience to provide further information. They do not signify that we endorse the website(s). We have no responsibility for the content of the linked website(s).
Your use of this website and any dispute arising out of such use of the website is subject to the laws of China.

 

ZONESUN TECHNOLOGY LIMITED
[Re: Privacy Compliance Officer]
1st of south 2nd Shuikou road Jinsha Town Nanhai distric Foshan, 528223 Guangdong, China
Contace us

E-mail: zonepack@hotmail.com  
Phone/Wechat/Whatapp:+008618924567106
Online shop: www.zonesunpack.com
Cindy
Contact us
E-mail: zonepack@hotmail.com  
Phone/Wechat/Whatapp:+008618924567106
Online shop: www.zonesunpack.com
Cindy
Terms of service
Terms of service
Terms and Conditions
Welcome to our website. If you continue to browse and use this website, you are agreeing to comply with and be bound by the following terms and conditions of use, which together with our privacy policy govern ZONESUN's relationship with you in relation to this website. If you disagree with any part of these terms and conditions, please do not use our website.

The term 'ZONESUN' or 'us' or 'we' refers to the owner of the website whose registered office is Guangdong,China. The term 'you' refers to the user or viewer of our website.

The use of this website is subject to the following terms of use:

The content of the pages of this website is for your general information and use only. It is subject to change without notice.
This website uses cookies to monitor browsing preferences. If you do allow cookies to be used, the personal information may be stored by us for use by third parties.
Neither we nor any third parties provide any warranty or guarantee as to the accuracy, timeliness, performance, completeness or suitability of the information and materials found or offered on this website for any particular purpose. You acknowledge that such information and materials may contain inaccuracies or errors and we expressly exclude liability for any such inaccuracies or errors to the fullest extent permitted by law.
Your use of any information or materials on this website is entirely at your own risk, for which we shall not be liable. It shall be your own responsibility to ensure that any products, services or information available through this website meet your specific requirements.
This website contains material which is owned by or licensed to us. This material includes, but is not limited to, the design, layout, look, appearance and graphics. Reproduction is prohibited other than in accordance with the copyright notice, which forms part of these terms and conditions.
All trade marks reproduced in this website which are not the property of, or licensed to, the operator are acknowledged on the website.
Unauthorised use of this website may give rise to a claim for damages and/or be a criminal offence.
From time to time this website may also include links to other websites. These links are provided for your convenience to provide further information. They do not signify that we endorse the website(s). We have no responsibility for the content of the linked website(s).
Your use of this website and any dispute arising out of such use of the website is subject to the laws of China.
ZONESUN TECHNOLOGY LIMITED
[Re: Privacy Compliance Officer]
1st of south 2nd Shuikou road Jinsha Town Nanhai distric Foshan, 528223 Guangdong, China
About Shipping
Shipping
In order to offering better service,we have operated with multiple shipping companies like Fedex,DHL,DUP,UPS,EMS etc.We sure that you can choose the most suitable one for our online products.
1.Most of them will be shipped by express shipping like Fedex or DHL,delivery time is 6-8 business days.
2.Some small products will be sent by regular shipping,delivery time is 15-45 business days.(There is an instruction saying this product will be sent by regular shipping.)But if you need faster shipping,please contact us to upgrade shipping method.We are glad to help you.
3.Some customers can not place their order since there is an error saying that we can not delivery the product to their countries.If you are in this situation,please contact us to confirm the price and shipping,we will help you place the order successfully .The shipping fee is hard to set up online,and in this situation,it is possible to spend less money to get this product,so it will be better if you can contact us.
4.If you find the shipping fee is too expensive for you,please contact us,we are glad to help you find the best shipping method.For large machine,it will be better for you to contact us before placing the order,in this way we can confirm the price,delivery time and check if the machine is really suitable for your products.
Payment
You may find that we only support paypal now,but we can offer other payment method like west union,TT,credit card,wechat pay,Alipay.You will find the best one as your need.If you have any problems about payment,please send us message.Although Some of them are not supported on online service now, we are trying our best to upgrade these.
Contact Support
We know some customers may need the product urgently and hope they can place the order as soon as possible.In this situation,we offer e-mail and online chat support to help our customers to know more thing about our products and service.For contact support: 
ZONESUN TECHNOLOGY LIMITED
[Re: Privacy Compliance Officer]
1st of south 2nd Shuikou road Jinsha Town Nanhai distric Foshan, 528223 Guangdong, China